Answered By: Lindsey Sinnott

Last Updated:

Jan 07, 2019

Views:

333
Yes! With Google Scholar's Library Links, you can tell Google to include links to full text articles when they are available in APU's collection. Here's how to set up Google Scholar to include APU's holdings:
Go to the Google Scholar Preferences page.
Look for the "Library Links" section.
Type "APU" into the box, then click "Find Library."
Check the box next to "Azusa Pacific University - Get This Item at APU."

Click the "Save Preferences" button.
Go back to the Google Scholar search page and search as usual.
Once you've set up APU library links, you will see a link that says "Get This Item at APU" whenever APU has a full text copy of an article you find in Google Scholar. Click the link, then follow the instructions in the Full Text Finder window to locate the article.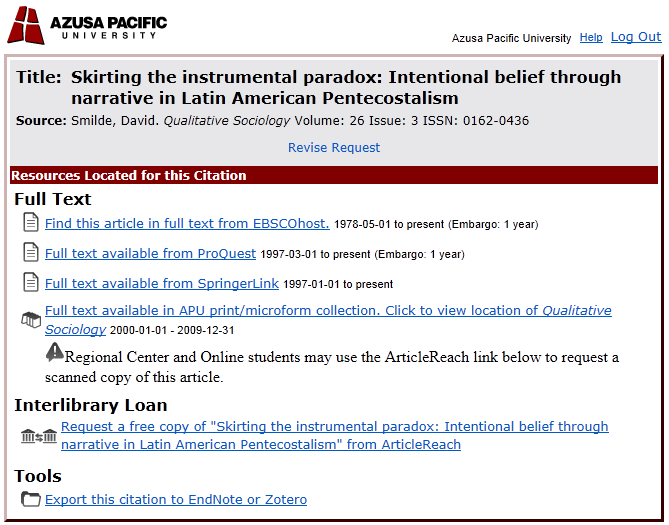 Enabling your Google Scholar preferences to include links to APU full text can save you money! Most Google Scholar results do not include free full text; rather they link to publisher sites that can charge you $20 or more to download the article. If APU has a copy of the article, you will be able to read it without an additional charge.
Library Info & Research Help